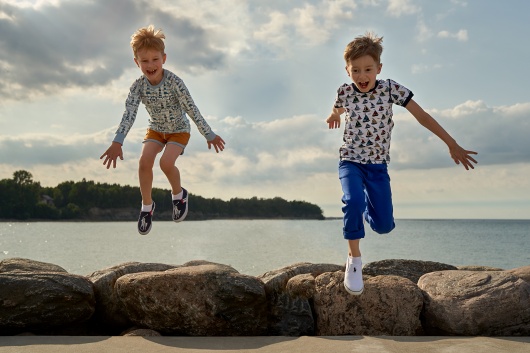 CHILDREN'S CLOTHING BRAND OLIVERMARTIN WAS FOUNDED IN 2015 BECAUSE OF TWO BROTHERS – OLIVER AND MARTIN
The brand was born out of the need to create quality clothes for active boys,
which would look good and which the boys would be happy to wear.
Over time, clothes for girls and babies were added to the product range.
Today, OliverMartin has many friends, both small and big.


CLOTHING INTENDED TO LAST
Our foundation for creating clothes is sustainability.
We want the joy that comes from wearing our clothes to last for years,
and for that joy to be passed on to the next child in the family.
That's why we use only high-quality materials that are organic and skin-friendly.
Our clothes look good even after repeated washing and are not afraid of being dried in a tumble dryer.


TRUE CHILDHOOD
We make clothes that are loved.
They lift your mood in the morning and are comfortable to play in all day and cuddle up with in the evening.
It is very important to us that our clothing allows children to play and supports their active lifestyles.
That's why our materials are soft and breathable.
We guarantee that each of our products is safe, child-friendly and comfortable to wear


COOPERATION BETWEEN TAILORS AND CHILDREN
OliverMartin designer Ülle draws on years of experience and knows how important it is that our products are constantly tested
and further developed, from the fit of the cut to the material and the last seam.
In cooperation with our tailors, she creates clothes that are safe for a child to wear and fit perfectly.
Before a new garment goes into production, it is tested by our most critical and honest customers:
the children in the OliverMartin community.
We are very glad that you have found us. We will do our best to make sure you are satisfied with our products.

Take care of yourself and people you love ❤️
Yours,
OliverMartinkids